I got this book months ago but procrastinated to read it.  Finally, I finished it yesterday.  Here's my review!
~~~~~~~~~~~~~~~~~~~~~~~~~~~~~~~~~~~~~~~~~~~~~~~~
Title:  Off the Grid: Inside the Movement for More Space, Less Government, and True Independence in Modern America
Author: Nick Rosen
Synopsis: "Journalist and documentary filmmaker Nick Rosen traveled across the United States meeting some of these people [those who live off the grid and away from mainstream America].  They are millionaires and foreclosure victims, paranoid survivalists and saintly environmentalists, retirees and marijuana growers, and plenty of ordinary families – all chasing their off-grid dreams.  As varied as this collection of characters is, they all share the belief that the grid – and everything it represents – has let them down, that they're better off taking care of themselves.  As Rosen reveals, it takes tremendous dedication and determination to live off the grid, but for them, it's work it.  This is essential reading for anyone who's ever thought about going off the grid.
ISBN: 978-0143117384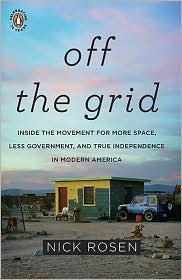 ~~~~~~~~~~~~~~~~~~~~~~~~~~~~~~~~~~~~~~~~~~~~~~
 My Review:
There have been some semi-bad reviews on this book – non-professional reviews none the less – and also some readers expecting the book was going to be different to how it actually is.  Off the Grid by Nick Rosen isn't about HOW to live off the grid – if you want that, read his other book, How to Live Off-Grid – but instead about his encounters with people whom already live off-grid and why they decided to ditch the rat race and lead a simpler life.
Nick Rosen is a writer and award-winning documentary filmmaker and he wrote this book as he would direct a documentary or comprise an informative news article.  The first part of the book informs the reader of the history behind the grid – the electric, water and sewage companies – and how these companies are creating ways for consumers to be dependent on the grid.  While the intro – what the grid is and the different examples of how it's "taking advantage" of consumers – was interesting, I did find reading it was quite tedious at some points.  However, those who are interested in learning a bit before diving into the story will thoroughly enjoy the beginning.  I, on the other hand, become bored when things aren't "happening".
I picked up this book because I knew it chronicled the author's travels and encounters with "off-griders" so I was happy when finally, after all the mumbo-jumbo of the beginning, we got to meet some of the people whom live off-grid and learn how and why they decided to lead a more plain and idle lifestyle.  The "characters", and some of them definitely are characters, range from an eccentric writer who lives on a Mexican beach (the only person he visited outside of the United States) to "The Last American Man".  The wide range of people and the experiences Nick Rosen had with them, is what definitely makes up the entire book and the reason why it was sometimes hard to stop reading.
As Nick Rosen's opinion and voice is very present throughout the book, it is hard not to form a judgement of the author himself.  For me, I felt that, while he shared different stories from different people, he was a little biased.  Maybe it was because he lives half-time off the grid himself or because he just truly believes in living away from mainstream society, but he seemed, especially in the beginning, to find evidence that repeatedly bashed living on-grid and things related to the "grid".  Of course, the book is called Off the Grid and I realize that, but as informative as this book was, it would've been great to have a more fair look at the grid.
All in all, I do recommend Off the Grid by Nick Rosen.  I think he created a wonderful book that is both "travel" and "history", and he shows his readers WHY people choose to live off-grid.  It's definitely an informative and interesting read.
Purchase it at Amazon.com here: Off the Grid
*Note: The review above is written by me.  © Kalie Lyn 2011*